Why Hire a Property Manager?
---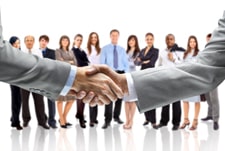 Many aspiring landlords believe owning a rental property will be all sunshine and rainbows. You sit on your back porch and collect your rent (automatically of course), while your tenants take the utmost care of your property and the only calls you receive are those saying how happy your tenants are and that they want to live in there forever. Life is good and making money on your investment is easy.
Unfortunately though, a few months into it, the reality bug bites and instead of your rent check seamlessly rolling in each month, your tenant refuses to pay. It seems as if every other week you are receiving a call about another repair being needed, or now maybe your tenant wants to break their lease, or has secretly moved in thirteen of their relatives under your roof. That peaceful vacation to Cabo…? Forget it. The water pipe in your rental just burst at 3:00 am and needs attention immediately.
As you can see, it doesn't take long for the sunshine and rainbows to fade, leaving you wondering "How can I escape this nightmare?"
Fortunately, there is a solution. The following are some more reasons why it is so important to hire a property manager to make your life easier, and the return on your investment higher.
Setting the right rental rates: While many homeowners can look through the available rentals in their area and ballpark rent for their home, a property management company will conduct a thorough market study to set a rental price for your property to help achieve the perfect balance between maximizing your monthly income and minimizing your vacancy rates.
Collecting and depositing rent payments on time: Securing payment from tenants can be painful and awkward. Property management companies have tried-and-true systems in place to effectively collect and maintain on-time rent payments.
You don't need to keep being the bad guy: As difficult as collecting rent can be, the headaches don't stop there. Enforcing the terms of the lease can be a daunting task, especially for those who don't handle conflict particularly well. With a property manager, you no longer have to dedicate hours trying to explain yourself and reason with your tenants, or be the party-pooper that comes down on them for sneaking a puppy in, or smoking indoors for example.
No more wake-up calls: If there is a problem with your rental, you are on the hook to fix it, and to do so in a timely manner. With a property manager, you can get a full night's sleep and not have to worry or tend to every last issue or emergency that arises, because let's be honest… You have a life too.
Finding the right tenants, the first time: Most property managers have been managing property much longer than the owners they represent. With experience comes wisdom, and property managers know how to effectively screen tenants through robust background and credit checks that many owners simply do not have access to. This is very important as it directly correlates to your vacancy rates, timely rent payments, and safety of your home.
Marketing and advertising your property: While craigslist can be an excellent tool for marketing for many landlords, a professional property manager has access to market your property through dozens of the best rental sites and social media outlets. They also have a significant advantage when it comes to properly crafting compelling advertising materials for your home and the added benefits of market visibility and search engine optimization to make sure your property is seen.
Avoiding messy legal problems: Landlord-tenant law is a very dicey and tedious area of law to keep up with, and if you do not know what you are doing, can be very costly to an owner. With local, state, and federal regulations, as well as fair housing regulations to adhere to, a property manager (who in the state of Colorado is required to be licensed) will be sure to help you avoid lawsuits that could have severe repercussions for you and your family.
No more evictions: This certainly falls into the realm of messy legal problems, but there are added nuances to successfully evicting a tenant if necessary. A good property manager knows the protocol to handle evictions quickly, efficiently, and in compliance with state codes and regulations.
Maximize your return on investment: Yes, property managers typically take a percentage of your monthly rent in exchange for their services, but the amount that they typically take is generally far less than the money you save by not hiring a professional to take care of your property. Plus, hiring a property manager is a small price to pay for peace of mind and maintaining your sanity!
Freedom to invest: Now that you have hired a property manager and are receiving seamless income for your investment, you have plenty of time to look for other ways or other properties to successfully invest your money. Oh, did we mention that property managers are excellent resources to use to find your next rental property and to advise on which upgrades and repairs yield the best rental income!?