Meet Our Team
Michelle Irons » Owner and President of Phoenix Realty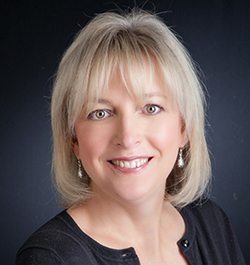 Michelle has been in the Real Estate Sales and Property Management business for 27+ years. Originally from Detroit, MI, Michelle's parents moved the family out to Colorado in 1974. Coming to Colorado shortly after, Michelle's Aunt started Phoenix Realty and Property Management in 1986, with Michelle quickly diving into the family business in 1989. Just nine years later, Michelle purchased the company from her Aunt with only 32 properties, and has been successfully building the company ever since.
Michelle continually dedicates much of herself to the local Lafayette Chamber of Commerce, and was recently honored with an award from the Chamber for her outstanding commitment and tireless devotion to the community. She is currently a member in good standing of the National Association of Residential Property Managers (NARPM), and Boulder Area Realtor Association; and she herself is a rental property owner. Outside of volunteering in the local community, Michelle also spends her free time volunteering for the American Foundation for Suicide Prevention.
---
Kevin Chard » Owner, REALTOR®, CRS®, CNE®, ABR®, PSA®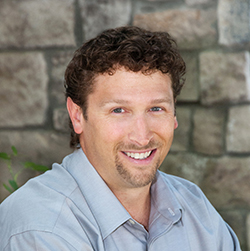 Buying and selling real estate is first and foremost a business decision- not an emotional decision- where I advocate and negotiate hard for my partners to insure their best interests and goals are exceeded throughout the transaction process to closing.
When I work with you in purchasing or selling real estate, I am working with you as a partner; you are not treated as a client. I pride myself on treating every transaction as if it were my own personal transaction, with the highest degree of professionalism to be expected from a Realtor. It's imperative that I insure my partners are well educated to the transaction (both pre- and post-) process, enabling the best decisions to be made for themselves possible. Attention to detail is critical to insuring accuracy with finances, inspections, and decision making during this process.
Working with new buyers is one of my most rewarding experiences and is personally the best part of being a Realtor. There are few goals greater than pride of ownership in your own home, in conjunction with all the various advantages that ownership enjoys over renting.
If you have aspirations to sell your property, I will work with you on proposing and executing to property updates & improvements to insure a rapid sales cycle and attracting the greatest possible Buyer mindshare at the highest possible sales figure the market will support. Insuring your property is optimized for sale and is locally market priced competitively when initially going to market is absolutely critical to attracting buyers quickly and going under contract; I possess the knowledge, vendor relationships, and marketing strategy & tactics to make that goal our reality.
GRI, CRS, CRP - what does all this alphabet soup mean to you when you see it in print? When you see initials like these behind a REALTOR's name, it means that this person is a committed professional, not content just to take the courses needed to earn and maintain a real estate license, but determined to improve their professional skills. REALTOR's have devoted time to attending advanced educational courses and taking examinations to earn these designations to better serve their clients.
10 Best: Colorado Real Estate Agents for Client Satisfaction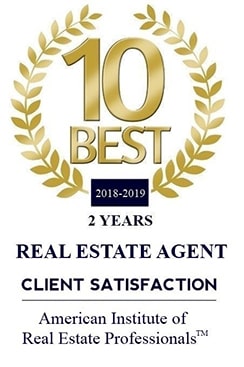 At the American Institute of Real Estate Professionals, we recognize Real Estate Agents who have excelled in their respective field(s). Agents who are recognized by the American Institute of Real Estate Professionals are what we consider the best in the industry for client satisfaction. It is our mission to do so that the perspective new client will be able to take this knowledge and use it in making the tough decision on what Real Estate Agent or firm to hire. It is the intent of American Institute of Real Estate Professionals to aid these prospective new clients by saving them time and effort in their own research. We strive to make the most accurate and comprehensive list possible and rely on many different sources to determine the level of client satisfaction that a specific Agent or firm provides. American Institute is an impartial third-party rating organization comprised of 7 divisions consisting of legal and Real Estate Agents. The American Institute of Real Estate Professionals compiles an exclusive list of the "10 Best" Real Estate Agents for each State. This is a prestigious honor for the Real Estate Agent as each Agent must:
Be formally nominated by the Institute, client, and/or fellow Agent;
Have attained the highest degree of professional achievement in his or her area; and
Having done so with an impeccable Client Satisfaction rating.
Many Real Estate Agents can achieve high degrees of success but this is often times at the expense or satisfaction of the most important person- the client. The American Institute of Real Estate Professionals looks for Agents that have achieved unparalleled success but most importantly have done so for the benefit of their client. Very few Real Estate Agents can do so and our organization recognizes this significant achievement.
CRS: Certified Residential Specialist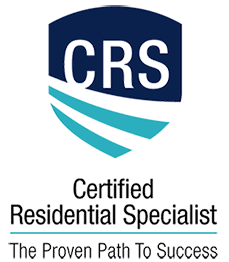 This designation is awarded by The National Association of REALTORS®. The Certified Residential Specialist (CRS) is the highest credential awarded to residential sales agents, managers and brokers, representing the top 3 percent of all REALTORS® in the country. To earn the CRS Designation, REALTORS® must demonstrate outstanding professional achievements—including consistent high-volume sales over the past 5 years—and pursue advanced training in areas such as finance, marketing and technology. A Certified Residential Specialist (CRS) has years of experience and success, and will help you make smart decisions in a fast-paced, complex, and competitive marketplace; they must also maintain membership in the National Association of REALTORS® and abide by its Code of Ethics.
CNE: Certified Negotiation Expert

This designation is awarded by the Real Estate Negotiation Institute (RENI). An agent who carries the CNE® (Certified Negotiation Expert) designation has been trained in professional negotiation skills by Negotiation Expertise, LLC, the leading negotiation training and coaching company for real estate professionals in North America. A CNE® professional knows how to use leading edge negotiation practices and techniques for your benefit will be able to handle your real estate negotiations with skill and excellence.
ABR: Accredited Buyer Representative

This designation is awarded by the Real Estate Buyer's Agent Council (REBAC). It denotes a Sales Associate who is qualified to provide buyer representation and is familiar with buyer brokerage and buyer agency issues. Earning the ABR requires attending a 12 hour course with a minimum passing final exam grade of 80%, active membership in REBAC, at least five documented transactions during the previous 18th month period where the Sales Associate acted as a buyer's representative, and the completion of an additional 8 hour elective course with a minimum passing grade of 80%.
PSA: Pricing Strategy Advisor

This designation is awarded by The National Association of REALTORS®. Determining property values depends more than ever on professional expertise and competence, the best use of technology, and approaching the pricing assignment from various perspectives. Being PSA certified further enhances and reinforces Kevin's already impressive skills in pricing properties, creating Comparative Market Analyses reports (CMA's), working with appraisers, and guiding clients through the anxieties and misperceptions they often may have about home values.

Kevin has earned his certification as a Historic Denver, Inc. Preferred Real Estate Agent and can be found on the Historic Denver, Inc. He's educated in the role of Historic Denver, Inc. in local preservation issues and efforts, and can identify and categorize properties based on their architectural characteristics, styles, and years of construction. Kevin can identify historic neighborhoods in Denver and what makes each neighborhood special and unique, and understands what historic designation means to property owners and how it impacts their rights and responsibilities. He's been trained in financial incentives associated with historic property ownership, and is able to inform clients of basic maintenance responsibilities concerning historic property ownership. Kevin knows where to learn more about historic property, and how to direct owners in researching their new historic property.
303.666.4300
kevin@phoenixrealtyinc.com
---